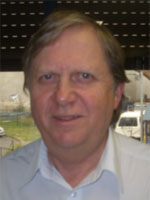 Ron Mines – Boxologist 
Ron Mines, known as the Boxologist, began his career in the packaging industry as a teenager in 1967.
His experience in the box industry comes mostly from working as an employee for two of the largest box (and other packaging) manufacturers in Australia, through to 1999.
His box industry experience ranges through virtually all aspects of manufacturing, technical sales, administration and management.
Focusing on the technical aspects of the industry and it's interaction with other forms of packaging and the primary product, has occupied Ron's attention over the past 30 years.
Since 1999, he has been successfully consulting to a wide scope to the packaging industry. He trades as the Boxologist http://www.boxologist.com.au/
Ron has set about transferring the knowledge he has gained over the years to anyone who has the desire to learn from him.
He has developed many technical, industry-focused training programs and presented to a wide variety of trainees. Ron has Certificate IV – Assessment and Workplace Training.
Ron is past National Secretary of the Australian Institute of Packaging (AIP), an organisation of 400 + packaging professional members. He is a Fellow of that same association.
Aussie Pack 'n' Ship offers a wide range of capabilities based on our industry experience of more than 50 years.
We have strong alliances with other skillful consultants and box industry manufacturers of all sizes.
When it comes to our business, we offer our customers a diverse and talented resource base and a history of success.